Custom Printed
"Team Recognition Tags"
SIN 402-5; Contract number GS-07F-0335K
All dog tags are aircraft quality aluminum, 32 mils thick, with either a blank reverse for inscribing (we do not supply inscribing) or both front and back custom printed with durable epoxy. Each comes with a 30" nickel-plated steel ball chain attached.
This page has examples of dog tags custom printed for some events and organizations.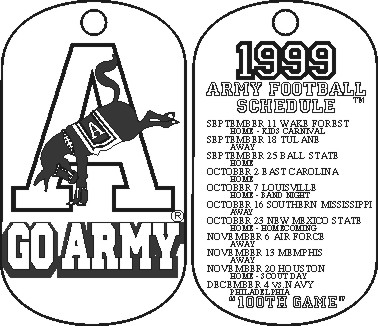 Applications:
Annual High School, College and Professional Sports Schedules
School, training and recruit orientation graduate lists
Hall of Fame Inductee Rosters
Lists of Reunion Attendees
High School, College and Professional Sport Team Rosters
Corporate Product Development Team Rosters
Corporate Mission Statements
Anniversary Programs
Special Event Programs
Charitable and Civic Group Volunteer Lists
Contest Finalist and Winner Lineups
Key Tour Attractions and Site Maps
Lists of Political Campaign Party Candidates
Specification lists for Product Promotions
Team Leader, Coach or Commander Inspirational Messages
Act Lineups for Concerts and Shows
Race and Rally Entrants and Places
Etc.

Choose from A, B or C for Printing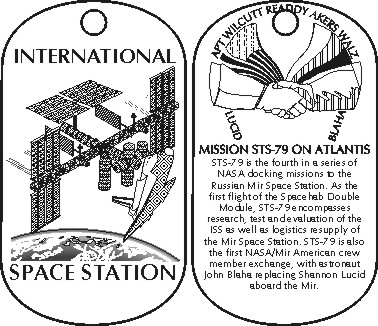 A. Single side printing
example: where all information can fit on one side or where back will become a mounting surface or where there is to be engraving or personalization.
B. Front and back printing
example: a group identification graphic is printed on the first side and a related message, schedule or list unique to that organization is printed on the other side.
C. Common front, special back
example: school name and year on front for minimum printing of 500 and lists of graduates on back - back divided into shorter runs of companies or specialties of graduates in minimum printings of 50.
Pricing:
All tags are $1.85 each
Minimum order for custom printing:
A- 200
B&C- 500
A and side 2 of C are subject to art and set-up charges of $25.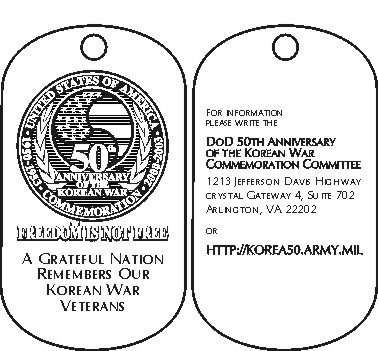 This price schedule is for single color, type or line-art supplied in true-type or digital vector files only. Creation or conversion of art for printing is not available for this product category. All tags are delivered individually packaged in a 2"x3" clear zip-loc bag and have 30" ball chains attached.