Military and Aero-Space Commemorative and Collector's Dog Tags
All dog tags are aircraft quality aluminum, 32 mils thick, with a blank reverse for inscribing (we do not supply inscribing) and come with a 24" nickel-plated steel ball chain.
All of these tags are available for custom event or organization imprints on the reverse side. Please E-mail us with your copy requirements and we'll return an estimate.
(ed. - The products and services on this website are no longer available)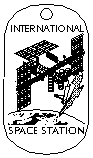 The International Space Station tag is a dark blue image on a gold anodized aluminum dog tag
Order #108
---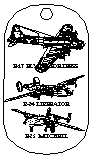 The Bombers of WWII tag is a dark blue image on a clear anodized aluminum dog tag
Order #100
---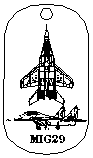 The MIG 29 tag is a dark blue image on a clear anodized aluminum dog tag
Order #101
---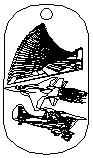 The Air Show tag is a dark blue image of a Stealth, F17 and Bi-wing on a clear anodized aluminum dog tag
Order #107
---
The Kitty Hawk Flier tag is a dark blue image on a gold anodized aluminum dog tag
Order #106
---
The Avenger Aviator tag is a dark blue image on a clear anodized dog tag
0rder #102
---
The P51 Aviator tag is a dark blue image on a clear anodized aluminum dog tag
Order #103
---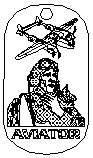 The P38 Aviator tag is a dark blue image on a clear anodized aluminum dog tag
Order #104
---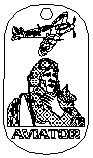 The Spitfire Aviator tag is a dark blue image on a clear anodized aluminum dog tag
Order #105
---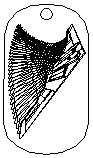 The Stealth Bomber tag is a dark blue image on a clear anodized aluminum dog tag
Order #109
---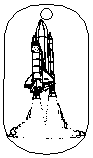 The Shuttle Liftoff tag is a dark blue image on a clear anodized aluminum dog tag
Order #110
---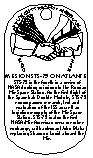 The STS-79 is the first ISS Mission tag and is a dark blue image on a gold anodized aluminum dog tag
Order #111
---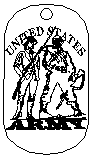 The Minute Man and G.I. Joe Army tag is a dark blue image on a clear anodized aluminum dog tag
Order #112
---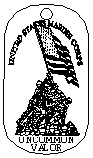 The Uncommon Valor Marines tag and is a dark blue image on a clear anodized aluminum dog tag
Order #113
---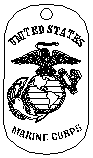 The Globe and Anchor Marine tag is a dark blue image on a clear anodized aluminum dog tag
Order #114
---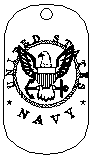 The Navy tag is a dark blue image on a clear anodized aluminum dog tag
Order #115
---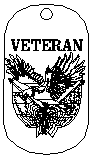 The Veteran Service tag is a dark blue image on a clear anodized aluminum dog tag
Order #116
---
The Coast Guard tag and is a dark blue image on a clear anodized aluminum dog tag
Order #117
---
The Air Force Star and Bars tag is a dark blue image on a clear anodized aluminum dog tag
Order #118
---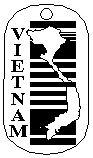 The Viet Nam Campaign ribbon tag is a dark blue image on a clear anodized aluminum dog tag
Order #119
---

Return to Products Home Page